Better Lives Foundation: Saving Lives through People, Property, and Passion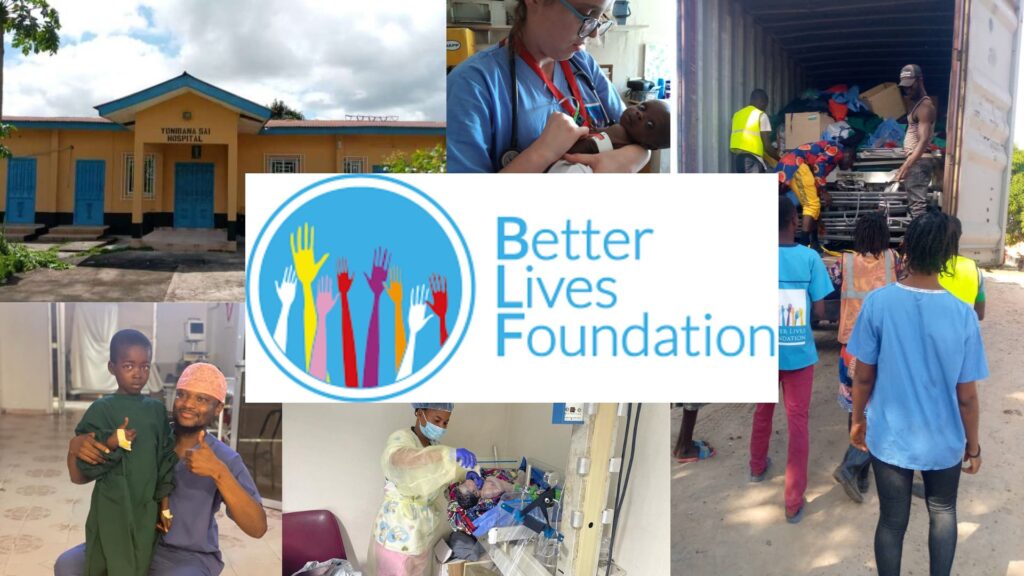 In the pursuit of saving lives, three essential elements come together: people, property, and passion. The Better Lives Foundation (BLF) embodies this powerful combination as a charitable organisation dedicated to providing sustainable medical care and education to support local communities. At the heart of their efforts lies the Yonibana Sai Hospital in Sierra Leone, a beacon of hope for those in need.
A few years ago, Devi Patel, became aware of the planned disposal of unwanted hospital equipment in Cambridgeshire. Recognizing the immense potential of these resources, Devi reached out to BLF. Together with the collaboration of ASTOP Limited, she organised the transportation of over 10 large lorries filled with hospital equipment to a storage facility in Slough, where it was graciously offered free of charge.
Amidst the challenging years disrupted by the COVID-19 pandemic, these shipping containers filled with valuable equipment have been a lifeline for the Yonibana Sai Hospital. They enabled the hospital to expand its operations and increase the number of frontline staff. This ensures that medical care remained accessible to those who needed it most.
BLF projects are driven by a singular focus: improving people's lives and establishing a self-supporting structure. This encompasses a wide range of initiatives, including free education and medical support in areas where such resources are scarce or virtually non-existent. Their reach extends beyond the hospital walls through dedicated outreach village programs that aim to facilitate preventative healthcare. Collaboration with other charitable organisations further maximises the impact of BLF's endeavours.
Recognizing the increasing needs of the community, BLF is expanding the services they offer. The following additions to the Yonibana Sai Hospital are a testament to their commitment:
Neonatal and Maternity Unit: Ensuring specialised care for mothers and their newborns, providing a safe and nurturing environment.
Ophthalmology Unit: Addressing eye health and offering treatments, surgeries, and access to vision-saving interventions.
Dental Unit: Focusing on oral health, providing essential dental care services to improve overall well-being.
Inpatient General Medicine: Expanding the capacity to accommodate and treat a broader range of medical conditions, supporting the local population.
Surgery Unit: Enabling critical surgical interventions and life-saving procedures for patients in need.
Radiology Unit: Equipping the hospital with modern diagnostic tools to enhance the accuracy and efficiency of medical evaluations.
Laboratory Diagnostics: Establishing a comprehensive diagnostic facility to aid in early detection and effective treatment.
Library: Creating a space for learning and growth, enabling access to knowledge and resources for both medical professionals and the local community.
The dedicated volunteers of BLF contribute their services and support selflessly, covering their own travel and accommodation expenses. These individuals possess extensive experience in working on medical projects in developing countries, coming from diverse backgrounds, both medical and non-medical. Their combined expertise and unwavering dedication are the driving force behind the positive impact BLF continues to make.
One volunteer shared their transformative journey, saying, "At first, serving in the medical project in Sierra Leone seemed daunting and challenging. However, the series of experiences and transformations I've witnessed have made my journey beautiful, meaningful, and worth sharing." It is through the commitment of these remarkable individuals that the Better Lives Foundation is able to create lasting change and save lives.
As we reflect on the incredible work carried out by BLF, it is important to remember the extensive and interconnected network of individuals and actions required to make a difference. The collaboration between people, the effective use of available property, and the unwavering passion to create better lives are the cornerstones of BLF's success.
Together, let us celebrate the Better Lives Foundation and their tireless efforts to provide sustainable medical care and education, inspiring hope and transforming communities one life at a time.